Johnny Knoxville and his troupe of pranksters have been getting into slapstick antics for decades. Their prank show on MTV struck a chord with its viewers and created a cult following for every teenager who wanted to watch shopping-cart surfing. Their show on MTV soon ballooned into Jackass: The Movie (2003), which upped the ante on their antics with more elaborate makeup for old-man stunts and more celebrities for bigger bits. The success of that film led to Jackass 2 (2006) and Jackass 3 (2010). While most of the cast seemed to go their separate ways, they're gathering back together for one last feature-length onslaught of funny.
Jackass Forever will mark the last time that Johhny Knoxville, Jason "Wee Man" Acuña, Preston Lacy, and a host of other returning actors will grace a film by the title Jackass. The cast will include Zach Holmes, Eric Manaka, Rachel Wolfson, and Sean "Poopies" McInerney, as well as guest stars such as Tyler the Creator.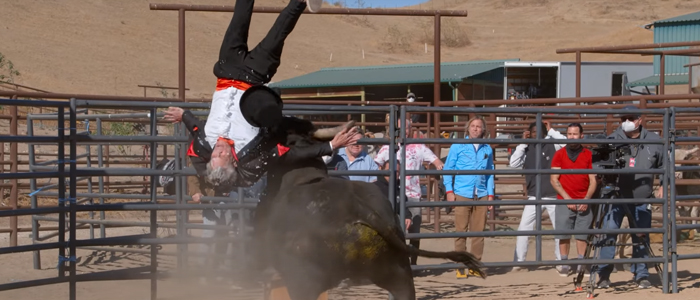 Check out the first trailer for the slapstick/prank comedy below:
Forever young and still funny in the head. Check out the NEW trailer for #JackassForever and see our big dumb movie in theaters everywhere on October 22, 2021. Celebrating the joy of being back together with your best friends and a perfectly executed shot to the dingdong, the original jackass crew return for another round of hilarious, wildly absurd, and often dangerous displays of comedy with a little help from some exciting new cast. Johnny and the team push the envelope even further on October 22 in jackass forever.