Dreamworks always wants to take their original animated films and expand them into several sequels as well as TV series of numerous seasons. We've had four Shrek movies (and one spin-off), three Madagascar movies (and one spin-off), three Kung Fu Panda movies, and three How To Train Your Dragon Movies. Not all of their films get sequels, as seen with the likes of Rise of the Guardians and Turbo, but usually, when they get approved for an animated TV series, it's a good sign more films are coming. The Croods was one such case. The prehistoric comedy of a caveman family struggling to live in a dangerous and evolving world was a mild hit in 2013. Well, Dreamworks has been working on the next installment and it may be hitting theaters sooner than you think.
The Hollywood Reporter has confirmed that the title of the new movie will be The Croods: A New Age and will be hitting theaters this Thanksgiving. Though the film was originally set for a debut in September 2020, it was pushed back due to the Covid-19 pandemic for a Christmas debut. But after seeing that Warner Bros may be seeking a claim during December with Dune holding firm on its date and Wonder Woman 84 moving that direction as well, The Croods will be shifting to the Thanksgiving spot.
This will be a tough spot to compete in considering Disney pretty much owns this holiday with their string of Thanksgiving animated hits over the years (Moana, Coco, Ralph Breaks The Internet, Frozen 2). But this may better explain why the film is shifting to this date as there's been speculation Disney will forgo the theater release for their latest Pixar picture, Soul, instead favoring the Disney+ exclusive package they assembled for Mulan. So there could be a vacant family animation spot for the theater this Thanksgiving.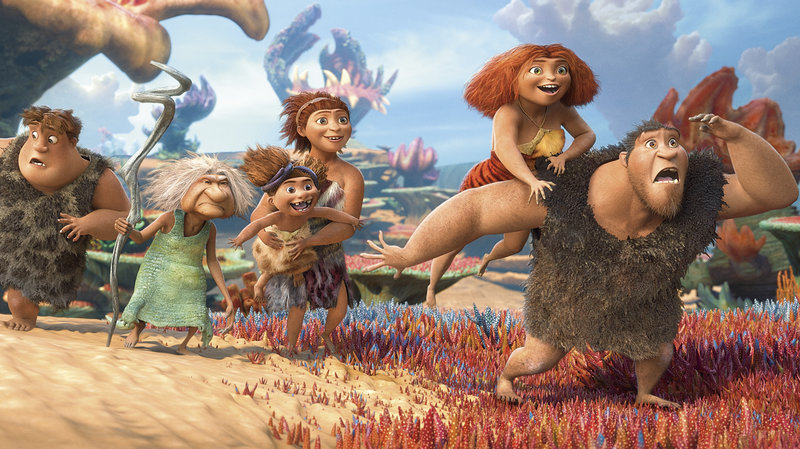 The voice cast from the first Croods film will be returning, which includes Nicolas Cage, Catherine Keener, Emma Stone, Ryan Reynolds, Clark Duke, and Cloris Leachman.
As always, dates can shift, but the current theatrical release date for The Croods: A New Age is November 25, 2020. We'll see just how committed it'll be to this date.