Director Guillermo del Toro has always been a fantasy-loving director who has conceived some of the most fantastical films of the 21st-century. Aside from his astounding Spanish-language films such as The Devil's Backbone and Pan's Labyrinth, he's also been known for such English-language pictures as Hellboy and Pacific Rim. He also won the Academy Award for Best Picture with his creature feature The Shape of Water. His latest film was a remake of the noir classic Nightmare Alley but he's getting back into fantasy once more with a long-awaited project.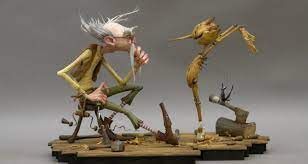 Guillermo del Toro has been working on a stop-motion Pinocchio film for a few years. He's been wanting to work on such a project for years and it was only once Netflix bought the project that it started to gain traction.  The voice cast will include Ewan McGregor as Cricket, David Bradley as Geppetto, and Gregory Mann as Pinocchio. Additional voices include Cate Blanchett, John Turturro, Ron Perlman, Tim Blake Nelson, Burn Gorman, Christoph Waltz, and Tilda Swinton. Now, we finally have our first look at this surreal animated picture. Check out the first teaser trailer below to get a taste of the animation style and tone:
Academy Award®-winning filmmaker Guillermo del Toro reimagines the classic Italian tale of PINOCCHIO in a stop-motion musical adventure. Follow the mischievous adventures of Pinocchio in his pursuit of a place in the world.
Pinocchio will be streaming on Netflix this December.