Of all the 1990s cartoons to hold up incredibly well for an adult audience (and there were plenty to be sure), Animaniacs was perhaps the most unique for being so brazenly meta, silly, and referential. The series followed the bonkers antics of cartoon characters Yakko, Wacko, and Dot, labeling themselves as the Warner Brothers and the Warner Sister (yes, she's meant to represent the period in Bros.). They would run amok of the Warner Bros studio lot, often angering the CEO, trying to escape the dumbfounded security guard, and pester the studio psychiatrist. The show also featured numerous and zany animated segments, one of the most popular being Pinky & The Brain, where an intelligent and stupid lab rat duo attempt to take over the world.
The show debuted in 1993 on Fox and finished on KidsWB in 1998. There was a Christmas special in 1999 but the show pretty much went the way of all of WB's golden age TV cartoons of the 1990s (Tiny Toons, Freakazoid, Hysteria). Over time, however, the many fans have continued to admire the show for its razor-sharp wit and catchy songs, the most notable being the building number of Yakko attempting to list every country on the planet in the form of song. So popular were these songs that the original voice cast actually performed them in concert. And since they did so well together, WB decided to take the next logical step and bring the show back.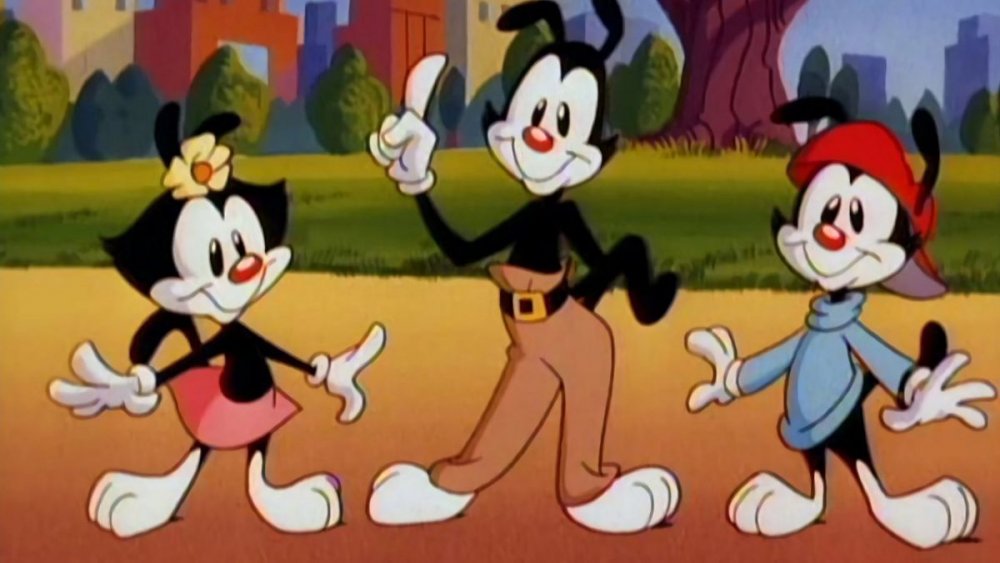 Hulu will soon be debuting a revival of Animaniacs this November with the original cast returning to voice their respective characters. This includes Rob Paulsen (Yakko, Pinky), Jess Harnell (Wacko), Tress MacNeille (Dot), and Maurice LaMarche (Brain). Though an official trailer hasn't released, Hulu has teased the audience with a behind the scenes teaser that showcases the voice cast at work once more. What we've learned from this footage is that the Animaniacs and Pinky and the Brain will be returning segments to the show. Other than that, we don't know much about any other returning characters or if there will be new character segments.
Check out the trailer and read the plot synopsis below:
In this official sneak peek, Hulu, Amblin Television and Warner Bros. Animation unveil a brand-new version of the iconic family-friendly cartoon series for the whole family, as the Warner siblings, Yakko and Wakko, and the Warner sister Dot, have a great time wreaking havoc and mayhem in the lives of everyone they meet. The Animaniacs revival premieres on Hulu on November 20, 2020.