One of the simplest and most beloved sandwiches that exists in the world is the peanut butter and jelly sandwich. It's quick, easy, delicious and nearly everyone has lived off of this sandwich at some point in their lives.
There is of course a major debate as to what flavor the peanut butter should be paired with, and it does cause some controversy. Some people prefer honey instead of jelly, or peanut butter and chocolate, or even the Northeastern favorite peanut butter and marshmallow.
Another sandwich debate is whether or not to cut off the crusts of the sandwich. Lots of picky kids won't eat them, even though most of them grow up to eat the crusts. But having the crusts cut off is even easier with the launch of Smucker's Uncrustables, which are pre-made sandwiches with the crusts already cut off.
Uncrustables are available in different flavors, like peanut butter on its own, peanut butter and grape jelly, peanut butter and strawberry jelly, chocolate hazelnut spread only, and peanut butter and honey on whole wheat bread. Now, Smucker's is introducing a savory flavor for the first time: the Smucker's Uncrustables Taco Bites.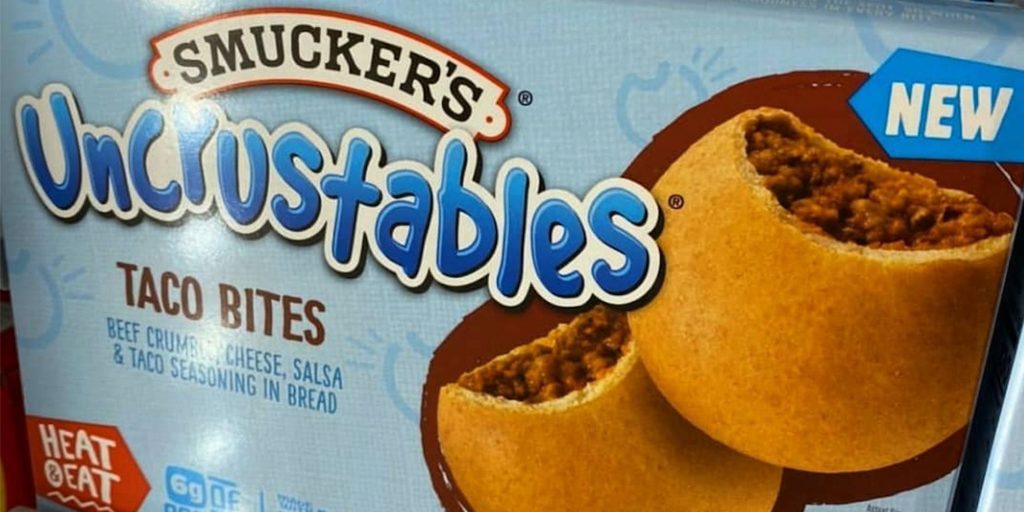 These taco bites are sandwiches, without the crusts, which are filled with taco fixings for a grab and go experience. Simply pop these in the microwave and enjoy. They are filled with beef crumbles, cheese, salsa and bread infused with taco seasoning.
Right now, these boxes include three packs of two taco bites each, for a low retail price of just $3.99. They include six grams of protein and contain 100 percent real cheese.
You can find them in the freezer section of your local Target stores. However, they should also be available in most major grocery store chains across the United States. It's unlikely that this new product will be a limited edition item, as it's a new flavor for the Smucker's brand and all their other Uncrustabes options are still available.