Summer is here and so are those high digits on the thermometer. The next time you decide that it's just too hot to cook, give of these quick no-cook sides a try.
Light Seven Layer Dip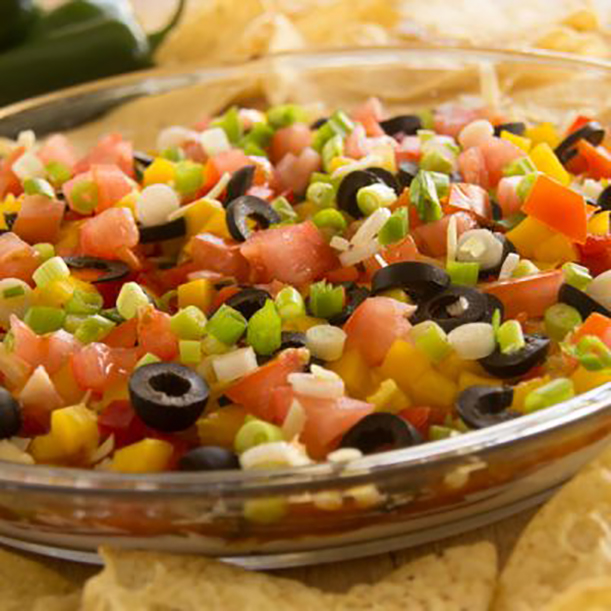 This refreshing dip pairs with your favorite chip, pita or vegetable for your next outdoor bbq or meal. If you are a fan of traditional seven layer dips, you're going to love this one.
With just a few minor ingredient tweaks from the original recipes, this one really makes a difference in a delicious, (almost) guilt-free dip. No stove or oven required!
1 can black soy beans
1 can black olives
1 tsp. chili powder
1/2 C. salsa
2 ripe avocados
2 tsp. lime juice
2 seeded jalapeños, chopped
1/4 C. chopped onion
Pinch of salt
8 oz. light sour cream
8 oz. whipped cream cheese (regular, not light)
8 oz. finely shredded light cheddar or Mexican cheeses
1/2 C. chopped tomatoes
Fresh cilantro
Directions
Drain black soy beans, then add chili powder and salsa. Mash well or blend in food processor. Peel and mash avocados with a fork. Stir in lime juice, jalapenos, chopped onion, and salt. Blend cream cheese and sour cream. Layer into 8″ glass baking dish in the following order: black soy bean dip; avocado mixture; sour cream/cream cheese mixture; shredded cheeses; tomatoes; and fresh cilantro. Add olives as the final layer.
Watermelon & Feta Salad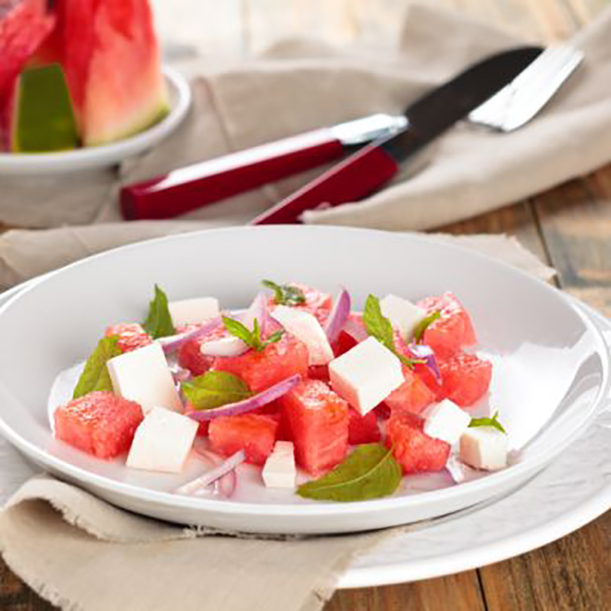 3 Slices Ripe Watermelon, refrigerated for 2 hours before cutting
7oz Feta Cheese, diced
¼ Red Onion, thinly sliced
Kosher Salt & Freshly Ground Black Pepper
Fresh Mint Leaves, for garnish
Remove your watermelon from the refrigerator. Slice your watermelon and remove the rind. Try to pick out as many of the large seeds as you can and then cut your watermelon into one-inch cubes. Set into a large bowl with your red onion.
Drain any juices from your feta cheese and set onto a cutting board. Dice your feta into similar sized, one-inch cubes. Toss with your watermelon. Season the bowl with salt and pepper. Toss again and serve with a garnish of fresh mint leaves.
Quick Party Fruit Skewers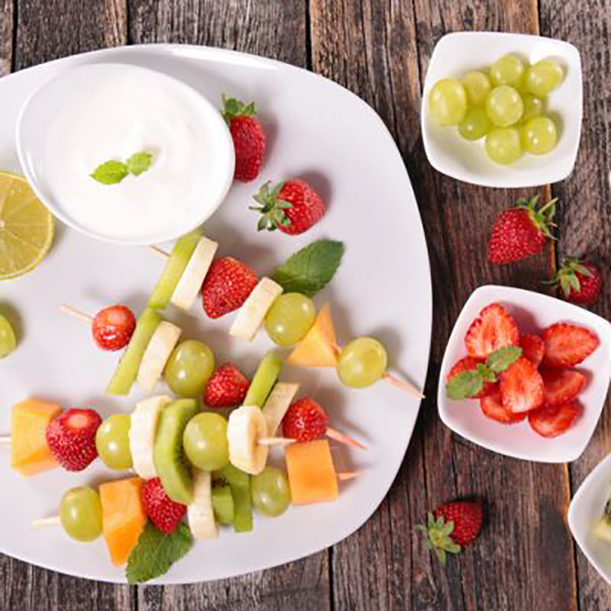 Looking for a quick but tasty dessert or side dish at your next outdoor shindig? Fill some skewers with juicy pieces of fruit for a healthy treat. Here's how:
36 strawberries
36 grapes
36 slices of oranges
36 raspberries
36 kiwis
36 long skewers
Wash all of your fruit. Slice your strawberries and oranges. Prepare an assembly station with all of your fruit and go ahead and skewer each piece. Place in refrigerator until you are ready to enjoy.