In an effort to aid in shelter dogs get adopted, SPCA of Niagara and Just Pizza of Amherst have been thinking outside the box—a pizza box that is. 
Through a promotion conducted last weekend, any customer who ordered a pizza would have the extra added thrill of receiving a special pizza box.
On the front of the boxes featured a picture of a special, adoptable friend.  One that was looking for its furever home.  It is Just Pizzas hope that this out of the box thinking will prove creative enough to boost adoptions. 
There is also the hope that friends and family will share the photos, or even go so far as to adopt one of the cuties themselves.
Mary Alloy, the owner of Just Pizza, says that they are always on the search for ways in which their business can give back. That is why when the SPCA in Niagara approached the Pizza store, about putting their shelter dogs on the pizza boxes, it was pretty much a no-brainer.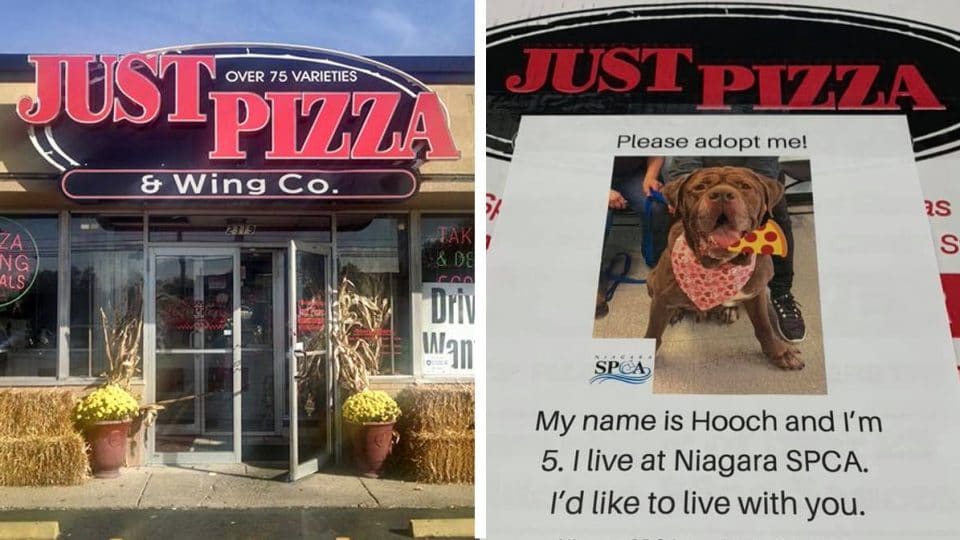 It is hoped that by seeing the cute little furry babies on the pizza boxes, that it will make it that much easier for them to not only be more widely seen but to find the one thing they all want—a home of their own.
Customers are strongly encouraged to share the pizza box photos all over social media. It only goes to reason that the more the photos are seen, the better the chance that the cuties will be adopted.
Just Pizza had announced that they are so very grateful for all the support for the animals. 
So much so, they are offering an awesome prize for those who do indeed adopt one of the dogs from one of the pizza boxes.  They are giving away a $50 Just Pizza of Amherst gift certificate upon proof of adoption.