If you are finding yourself still stuck in the vortex of cold weather, wind chills, and mountains of snow- you are not alone! Even for those of you who are used to this type of weather, you may still be thinking of ways to stay warm and happy.
If one of those describes you, you may be happy to know that there are recipes that will keep you nice and warm without breaking your newly made New Year's resolutions. So as a courtesy to you and your new diet, here are a few recipes that will bring you comfort and warmth as you cuddle up by the fire in the evenings, blanket and wool socks in tow.
1. Hot Cocoa

Much to the dismay of many, there are healthy ways to whip up a tasty hot chocolate that will warm you to your core. And we can all admit that nothing hits the spot quite like hot cocoa after coming home on a cold winter's day. Check out this recipe for success.
2. Soups and Stews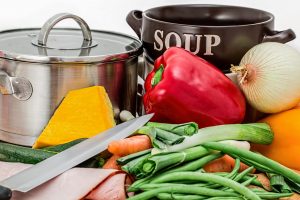 Soup or stew can really hit the spot on those chillier days. Especially for those who are simultaneous fighting cold and flu season with the weather, there is some solace to be found in the warm steam and spice of a good soup. And thankfully, you can find several recipes that are low in calories but high in nutrients.
Even some of the creamier favorites can be adjusted to fit your health goals. Replace the heavy whipping cream with vegetable stock and a diced potato that (once cooked) can be blended for the creamy texture you crave.
3. Slow Cooker Pasta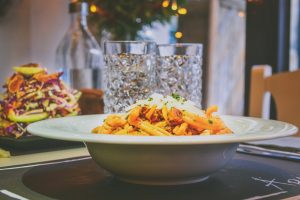 If you are the type to frequently find yourself curled up on the couch in front of the fire with a book and a wool blanket, you may not want to spend the time cooking. Let yourself enjoy a few extra chapters in the book by cooking up your warm dish in the slow cooker. Pasta is a favorite. Find several tasty recipes here.