A police officer's job is to serve and protect. In the case of this officer, the protect portion applies to more than just humans. Any good-hearted law enforcement officer will tell you that their job is about more than the law portion.
There are those who want to help those who can't help themselves—no matter who or what they may be. One Lakeland Police Officer, in Florida, is one of these individuals. His name is officer Kareem Garibaldi, and his recent act is stealing the hearts of social media everywhere.
One Saturday, during an early morning shift, Garibaldi was cruising around his beat. It was while driving his patrol car that he almost ran into a small puppy of a Pit/Boxer mix. When he got out of his patrol car and examined the pup, he found that it had no dog collar, tags, and was running around loose.
Without any tags, Garibaldi had little to go on as to the owners of the pup. That is when he took the situation into his own hands and began searching for the family that the puppy belonged to.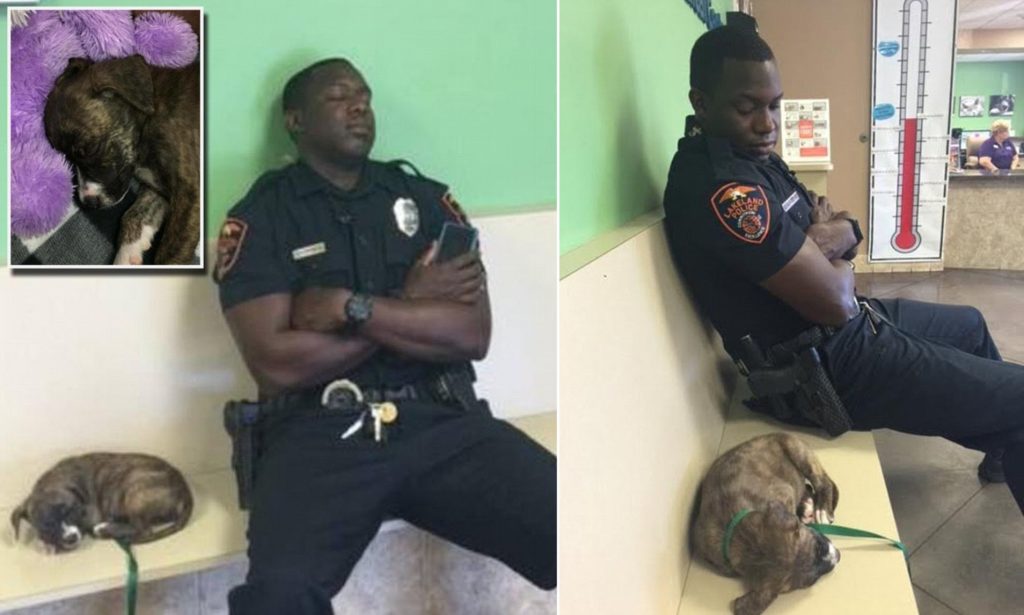 He canvassed the neighborhood where he found the pup and even posted pictures of the tiny dog to social media. He had hoped that someone would recognize the puppy, be as it turned out no luck.
After several days producing no leads as to the pup's owner, Garibaldi took her to the SPCA Florida Medical Center to have her checked out and treated. Garibaldi, tired and exhausted, waited in the waiting room for almost four hours.
After a photo of the two, sleeping on a bench in the vet's office went viral, the pup found its forever home. A dispatcher adopted her, and her new, very appropriate name, is Hope.
It is because of officers like Garibaldi, who went out of his way for a small pup, that shows just what unsung heroes officers are.