DC Comics animated movies have spanned a wide range of different films, even more than that of their live-action films. Various animated movies have adapted popular comic book runs (Superman: Doomsday, Justice League: The New Frontier), anime interpretations (Batman: Gotham Knights), and weird crossovers (Batman Meets The Teenage Mutant Ninja Turtles). You can now add video games to that growing list as well.
Injustice is a series of fighting games where DC Comics heroes and villains battle each other in a decaying world of chaos. It's essentially the Mortal Kombat equal of DC Comics video games which is not much a huge transition considering there was already a video game of Mortal Kombat versus DC Comics. Now those games will be bringing their storyline of a ravaged universe into an animated film, partially based on the comic book run of the games as well.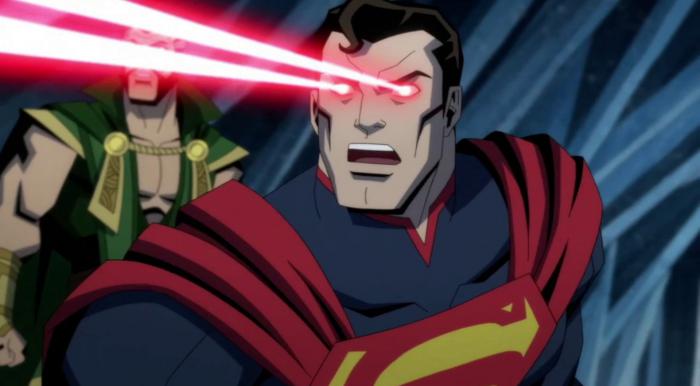 Check out the first trailer below:
An unthinkable tragedy propels Superman into a dangerous new mindset, ultimately pitting Justice League members against each other in Injustice, an all-new DC Animated Movie. Produced by Warner Bros. Animation, DC and Warner Bros. Home Entertainment, the feature-length animated film is set for release on 4K Ultra HD Blu-ray Combo Pack (USA $39.99 SRP; Canada $44.98 SRP), Blu-ray (US $29.98 SRP; Canada $39.99 SRP) and Digital on October 19, 2021. Inspired by Injustice: Gods Among Us, NetherRealm Studios' popular video game, and the best-selling DC graphic novel based on the video game, Injustice: Gods Among Us: Year One by Tom Taylor, the animated film Injustice finds an alternate world gone mad – where The Joker has duped Superman into killing Lois Lane, sending the Man of Steel on a deadly rampage. Unhinged, Superman decides to take control of the Earth for humanity's own good. Determined to stop him, Batman creates a team of like-minded, freedom-fighting heroes. But when Super Heroes go to war, can the world survive?
Injustice will be releasing on home video and VOD on October 19, 2021.