When Nashville and central Tennessee were hit by devastating tornadoes earlier this month, people immediately began trying to come up with ways to help those affected.
However, one of those who stepped up wasn't your usual volunteer—he was simply a three-year-old armed with a tricycle and determination.
In a photo that Susan Stout Dyer posted Friday, her little grandson Dax was seen biking around her neighborhood in Cookeville, Tennessee—one of the communities affected by the tornadoes. It seems that little Dax has himself a plan and a mission to help fix his neighborhood.
The photo she shared was simply captioned:
"My grandson Dax, in our subdivision."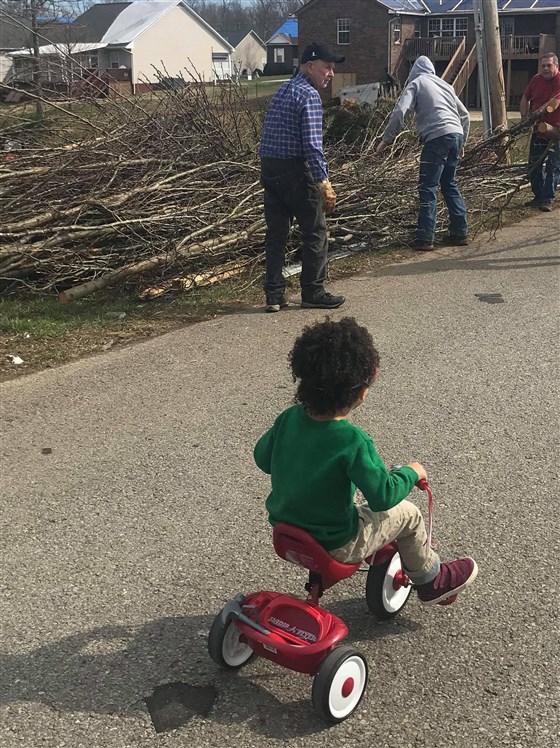 He was dressed in a cute little dinosaur t-shirt and was perched on his little red trike. Dyer said that Dax told her:
"…he had come to work to help his neighbors with their broken homes. "
He went on to say that is what God would want him to do—armed with a hammer and tools in the back of his trike.
The day after the tornadoes hit, Dax overheard Dyer telling his older brother that they were going down the street to offer help.
quickly loaded up his tool, donned his goggles, and off he went on his trusty trike.
There was a massive turn out of help and assistance for the tornado victims, which included some noted celebrities and members of the music industry.
Even with the donations that rolled in, the most remarkable image was of a small boy that felt he could make a significant impact on helping to clean up the tornado aftermath.
After viewing the photo, one individual felt the need to reply, saying:
"God Bless you, Dax, for having such a compassionate heart! So precious!"