Ben & Jerry's knows that there is always money in the banana stand. The popular America sitcom "Arrested Development" recently returned to Netflix for its fifth season on May 29, and Ben & Jerry's decided to mark this occasion with a new ice cream sundae. The Bluth Banana Stand Sundae, which will only be available until June 17th.
This tasty treat includes two scoops of your favorite ice cream of choice,  bananas, hot fudge, nuts, and a healthy dollop of whipped cream on top. It's a simple but fun spin on a traditional banana split. This banana split sundae will be available exclusively at Ben & Jerry's Scoop Shops across the United States. The treat is a fun play on the Bluth's Original Frozen Banana stand, which is the Bluth family's comically mismanaged side business on the series.
For people who are not located near a Scoop Shop, Ben & Jerry's has also provided the recipe with directions for people who want to make it on their own. The ice cream company recommends the use of Vanilla, Chocolate Therapy or Chunky Monkey for the base ice cream flavor in this dessert.
First, take one banana, peel it, slice the ends off and cut it long ways. Next cut on half of the banana into chunks and cut the other half in half one more time. Place the chunks inside the bottom of the cup with the ice cream. Then put 2 scoops of your choice of ice cream in a cup, and place the halved bananas alongside the ice cream, stranding them straight up in the cup.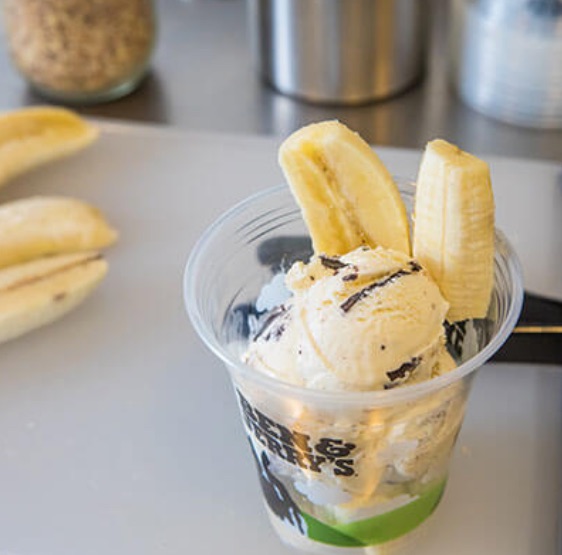 Once the bananas are in place, add one ounce of hot fudge to the cup, drizzling over both the ice cream and bananas. Then add one ounce of crushed or chopped peanuts on top of the hot fudge for an added topping.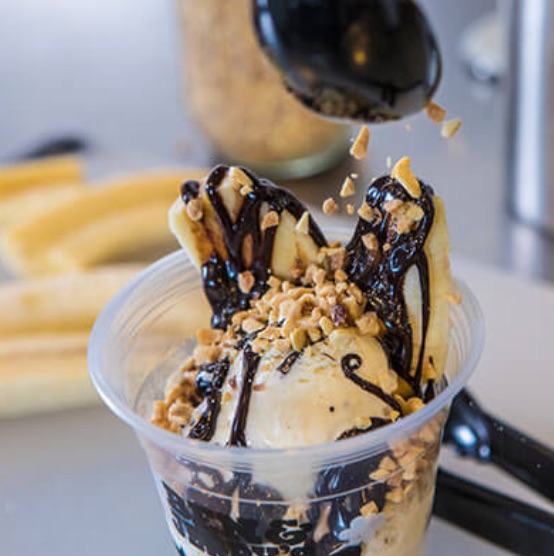 Finally, add one ounce of whipped cream to the top of the cup, covering the ice cream, bananas, hot fudge, and nuts. Now your banana stand sundae is complete and all that is left is to enjoy it!