Twix is one of the most recognizable candy bars in the world, due to its existence as two pieces of candy wrapped up together that can be easily separated. Twix candy bars are traditionally a long and thin shortbread cookie, covered with caramel and dipped in milk chocolate, which come in packs of two or four.
Now, Mars, the iconic candy company which creates Twix, has released a new flavor for Twix fans to enjoy. The Cookies & Creme Twix bar is a combination of the classic Twix candy bar and the beloved cookies & creme ice cream flavor.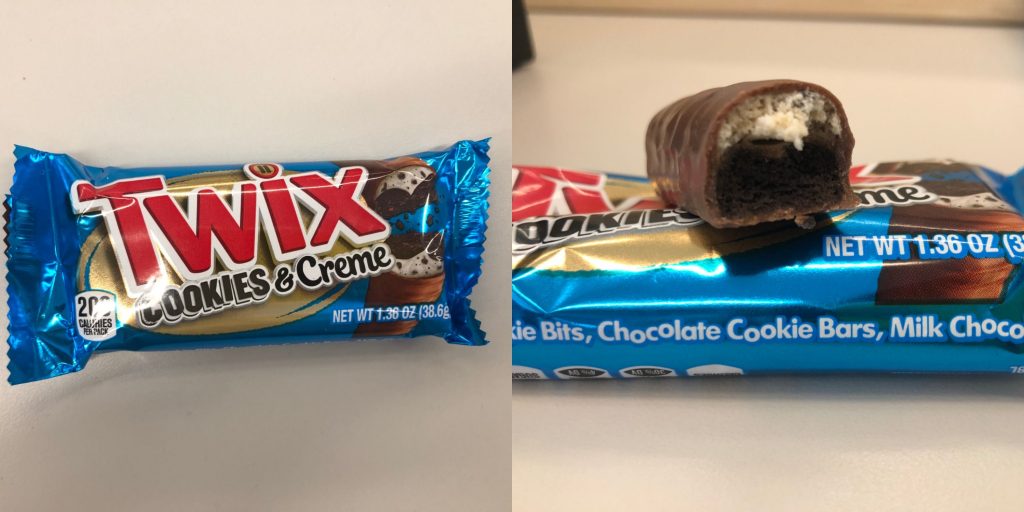 In a statement, Michelle Deignan, the brand director of Twix at Mars Wrigley, said, "Twix Cookies & Creme pairs one of America's most popular cookie flavors with its most popular cookie bar, creating a crave-worthy treat that appeals to loyal Twix fans and welcomes new consumers to the brand."
In an interesting twist, the new candy bar is also getting a matching sneaker release. The shoes are customized Jordans that replicate left and right Cookies & Creme Twix and were created by a partnership between Dominic Ciambrone and Twix. According to Deignan, "Our sneaker collaboration brings our new flavor to life in a fresh, unexpected way, one that celebrates the relevance of cookies & creme within sneaker culture and the left and right roots of our brand."
These new Cookies & Creme Twix bars are made up of a thick chocolate cookie, then topped with white, creamy, fluffy cookies and cream filling, which is then drenched in milk chocolate for the perfect creamy, crunchy bite.
The great news is that these new Cookies & Creme Twix bars, which feature bright blue packaging and the large red Twix logo on top of a yellow swirly background, are already available in stores nationwide. These new candy bars are not expected to be limited edition either and can be found in all major retailers and grocery chains across the country.