Martin Scorsese has been a consistently brilliant filmmaker and is perhaps best known for his films about crime and flawed men. "Taxi Driver" fantastically delved into the mind of a New York sociopath and his perceptions of women. "Raging Bull" portrayed the rise and fall of a boxer within a gritty black-and-white depiction. Of course, you can't forget his most iconic of gangster films, "Goodfellas." Scorsese has been seen as iconic for these many films and he'll be making a return to them this fall with a lot of familiar faces.
"The Irishman" will tell the tale of Frank Sheeran during a chaotic 20th-century America following World War 2 and leading into a rocky road of missing and assassinated people. Most notable about the film is that it will bring together the Scorsese veteran talents of Robert De Niro, Al Pacino, and Joe Pesci to create one heck of a gangster picture.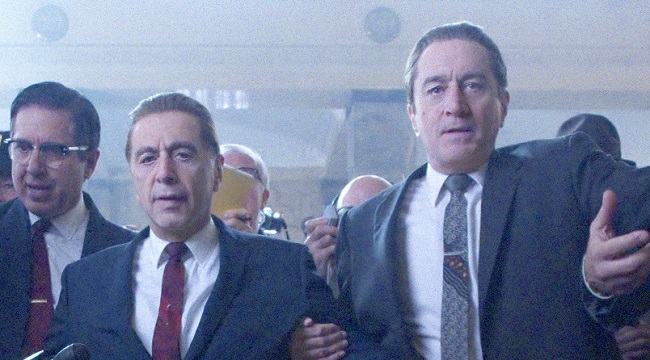 Check out the teaser and read the synopsis below:
Robert De Niro, Al Pacino and Joe Pesci star in Martin Scorsese's THE IRISHMAN, an epic saga of organized crime in post-war America told through the eyes of World War II veteran Frank Sheeran, a hustler and hitman who worked alongside some of the most notorious figures of the 20th Century. Spanning decades, the film chronicles one of the greatest unsolved mysteries in American history, the disappearance of legendary union boss Jimmy Hoffa, and offers a monumental journey through the hidden corridors of organized crime: its inner workings, rivalries and connections to mainstream politics.
"The Irishman" will debut on Netflix and in select theaters this fall.