Fremont Street At Its Height
Like we've mentioned here, Fremont Street in downtown Las Vegas was the place to go when you came to town in the 1950s. While it may seem a little out of the way today, back then Fremont Street was the original version of The Strip. And visitors today still know this stretch of casinos and hotels as the home of some of Las Vegas' most famous neon signs.
Check out this rare photo of Fremont Street at the height of its popularity. Here, during this street's heyday, visitors were actually able to drive down the street itself. And along the way, you could gaze out at the stunning, huge neon signs from the Golden Nugget, the Hotel Apache, and the Las Vegas Club. You could even watch the famed Vegas cowboy wave as you passed by in your 1950s ride.
The Tropicana Hotel First Appears on the Strip
While plenty of Las Vegas hotels have come and gone over the decades along The Strip, there are only a few that survived their start during the city's Golden Era and are still thriving in today's world. And you might not know that The Tropicana is one of them.
Today, the all-white, stories-tall Tropicana towers over the strip near the MGM Grand. But back in 1955, as you can see here, it was nothing more than a simple white sign. On an empty patch of Las Vegas desert dirt that year, the hotel's builders put up this billboard while construction crews prepared to lay the foundation for this formative hotel. Just two years later, the Tropicana welcomed its first guests, setting the stage for decades of success with luxury suite rooms.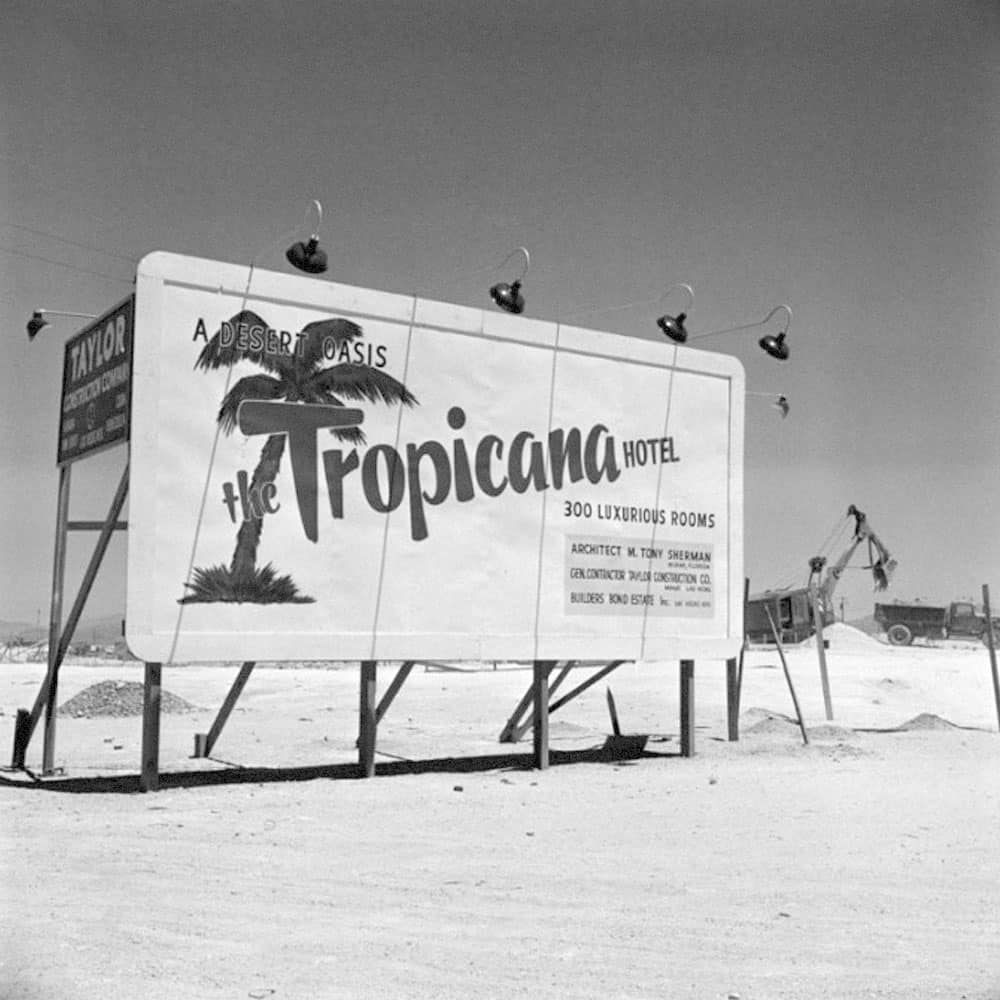 The Copa Girls Perform at the Copa Room
During the 1940s and 1950s, if you wanted to see a special Las Vegas show that offered the ultimate in glamorous entertainment, The Copa Girls were an absolute must-see. Hosted in the Sands Hotel right in The Copa Room, The Copa Girls were one of the defining acts in all of Las Vegas.
During their heyday, The Copa Girls performed for absolutely packed audiences of up to 400 people at the Sands Hotel. The Copa Room was their home base, and it drew impressive crowds every night a performance was scheduled. Decorated to look like the Copacabana, The Copa Room was bright, colorful, and vibrant. And if you were lucky, sometimes when The Copa Girls took the stage they'd be accompanied by a famous singer.
While The Copa Girls haven't been around or onstage since the demolition of the Sands Hotel, you can see a small piece of their famed performances in the photo here.