The First Days of Fremont Street
If you think of bright lights, brilliant billboards and marquee signs, and flashing advertisements for the latest shows at big-name hotels when you think of Las Vegas, you know its reputation very well. But did you know that those lights date back to an entirely different time — and an entirely different version of The Strip?
Fremont Street, which is now considered part of "downtown Las Vegas" and off The Strip, was once the heart of the action in this glittering desert oasis. It was on Fremont Street that the most famous casinos of Las Vegas' early days and entire history were found. When casinos first began opening their doors along this now-famous street, neon signs dotted the stretch to attract visitors. On Fremont Street, visitors could find hotels and signs that are now legendary, like The Golden Nugget and the waving cowboy.
Today, Fremont Street is still central to Las Vegas, but it's lost a lot of its old glamour. In this image, you can see the street before it was busy, and before it was enclosed with a huge overhead HD screen.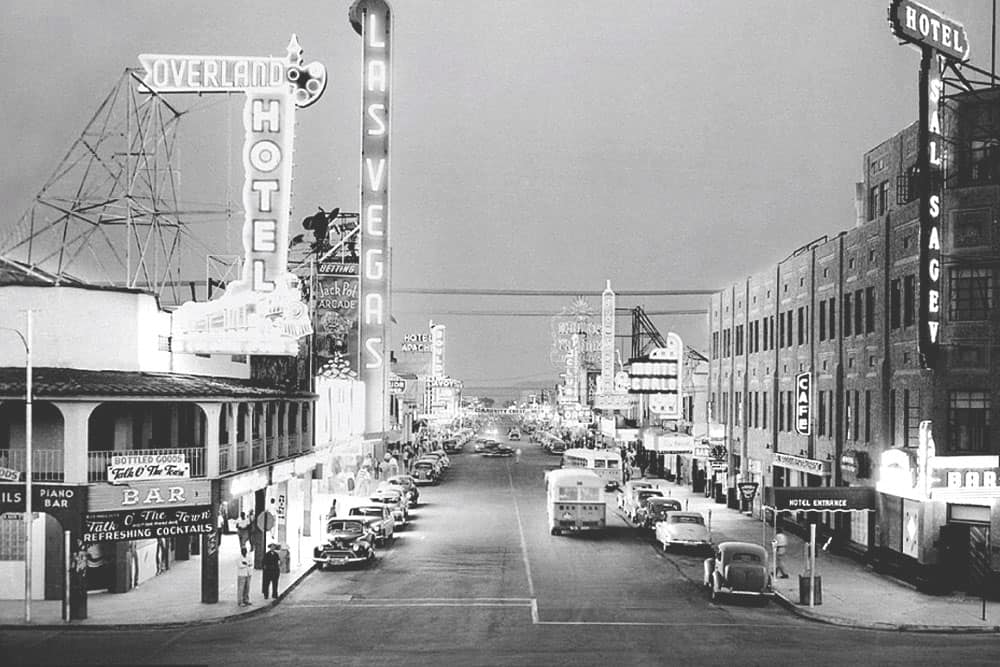 An Early Las Vegas Pool Party
Pool parties are central to Las Vegas today. You can't beat the heat in this desert — but when you can lounge poolside, listen to famous DJs spinning songs, and have drinks brought to you, you can certainly get comfortable in the sun.
Surprisingly, visitors have loved Las Vegas' pools since the very first days on The Strip. That's right: even the earliest casinos and hotels offered visitors the chance to enjoy refreshing pools and some sun.
In a rare snap of the early days at Las Vegas' first hotels, you can spot guests during the late 1940s and 1950s taking full advantage of everything this impressive pool offers. While it may not be as flashy as today's Las Vegas pool scenes, it's certainly an incredible sight for its time. Guests could sip drinks right in the pool, or play a game of roulette while catching some sun in the cool pool. Imagine gambling without even having to hop out of the water!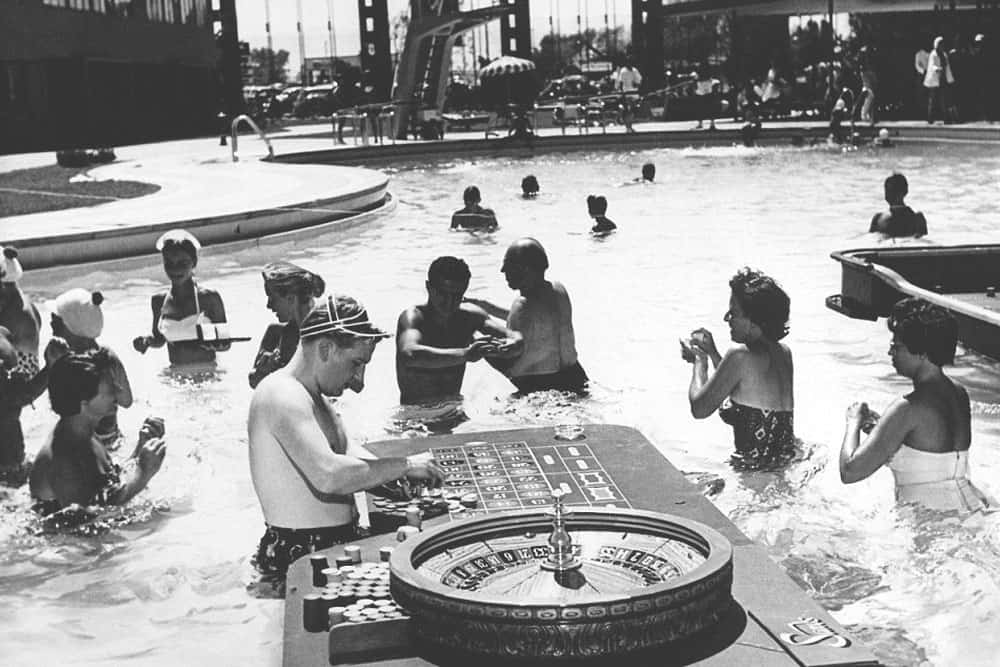 The Flamingo During the 1950s
Some of the hotels that made Las Vegas what it is today are still standing, but they're very few and far between. Many of those Rat Pack favorites and glamorous casino-centric destinations were torn down years ago — but not The Flamingo. Today, The Flamingo is the oldest hotel and casino still in operation in Vegas.
The Flamingo has stood on the Las Vegas Strip since the late 1940s. However, as you can see in the image below, it looked quite different in its early years. Back in the 1950s, The Flamingo was simply a low-level hotel and casino. A water tower and the famous glittery pink "Flamingo" sign didn't appear until the '50s, and in this shot the hotel and casino are just beginning to grow.